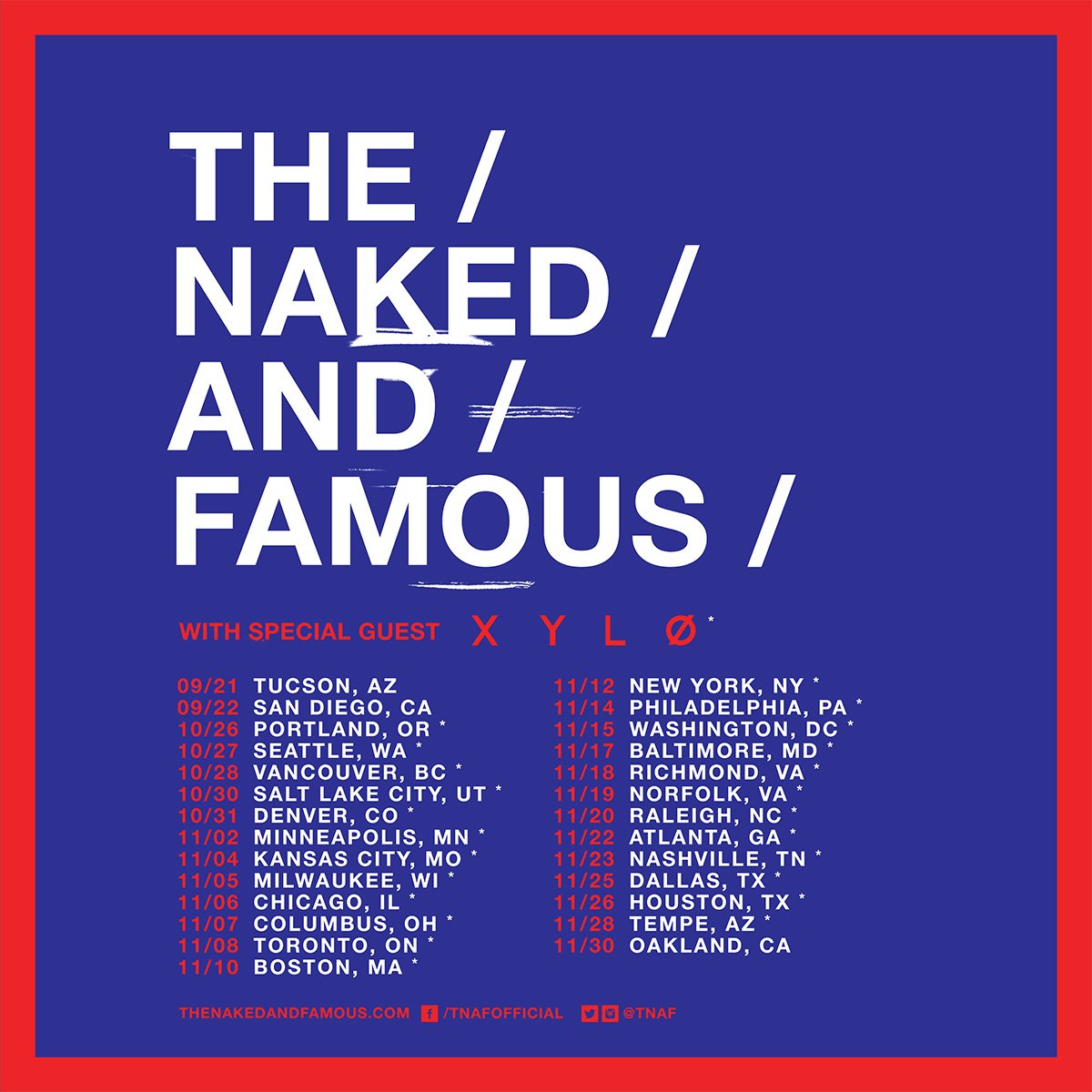 In a few exceptional moments in my life, I've been on the lucky end of statistics. These include: being the winning sperm, winning $3 on a $1 lottery ticket, and, by what was likely a system error, making it into Johns Hopkins. Now, I can add another to the list: accidentally conquering a Ram's Head raffle.
In what must have been an absentminded three a.m haze of scrolling through my emails (see: CVS coupons and Today's Announcements), I apparently entered in for a chance to see The Naked and Famous, a band that made a vague blip on my indie-pop radar. Despite having failed at like-minded attempts in Chicago over the past five years, I clicked a few buttons and succumbed my fate to history. My assumptions were naive, because on night before the concert I found myself having won a ticket.
The next night, I Ubered over to Ram's Head, adorned in a lace top and leggings that aimed for the line between "I'm cool, talk to me," and "I'm not that cool, so please don't creepily hit on me". Expecting the venue to be full of teens based on the band's youthful, pop-esque sound, I was surprised to find a group in their twenties and thirties, mostly as couples or pairs of friends. Looking for an in, but still unsure of what kind of article I wanted to write, I took on the role of "WJHU Reporter" and ventured, pen in hand, into the dance floor space.
Seeking context, I asked several different people what drew them to The Naked and Famous. Answers varied from, "They're indie" to "I don't know, I just like them", which was no more helpful in giving me ideas than the one Spotify song of theirs I'd listened to before the concert. While my brief investigation did not result in anything article-worthy, it did make me friends, and a group of high-school seniors from Annapolis was now my unexpected company for the night.
The Chain Gang of 1974 was the band's first opener, and I took notice of two members' appearances. The lead singer wore all black, a long t-shirt over skinny jeans coupled with a leather jacket. The man knew how to dance, and he rocked with the passion of a frontman like Matt Schultz to a lighter, more electro blend of rock n' roll. Their bassist, who had a soft, round face and wore a bucket hat, looked like he could've been hanging out at a frat party before he accidentally found himself playing bass for this band instead. Contradictory looks aside, I thought they put on a great performance, and I'd recommend giving them a listen. Start with their song Sleepwalking, featured on the Grand Theft Auto V, Vol 1. soundtrack.
Next was XYLØ, which I immediately confused with MØ, or any other trendy artist with a diacritic in their name. I wasn't particularly inclined to their music, but the lead singer was hella cool, with a Britney Spears aesthetic and the musical likeness of Metric.
While waiting for The Naked and Famous, a boyfriend and girlfriend in their early 30s approached my group. "How old are you guys?" asked the woman. We answered, and she responded with bursting enthusiasm that us young people were going out and dancing to good music. Apparently, we were living quite the life on a Thursday night in Ram's Heads.
When the Naked and Famous started, I was an outsider looking in, surrounded by a crowd confident in their love for the New Zealand band. As they played their tunes, bursting with an electric, poppy liveliness, my feelings evolved into that of giddy appreciation. I was thriving on a second-hand high that I got from all the fans around me, jumping up and down and singing all the words. At some points, the music changed tones, shifting into a psychedelic wonderland, and the crowd maintained energy in the form of a sleepy, dreamy, eclectic buzz. It was a well-executed, well-planned, dynamic set that appeared to have been done many times before, and, with a new album recently out, many times in the future.
The last song, their popular track "Young Blood", was one I finally knew. Yet by that point, I had begun to savor the unfamiliar tracks most. Discovery in the realm of live music is something magical, and the practice of going to see bands whose albums I didn't religiously listen to on Spotify was one I'd forgotten until a surprise Ram's Head ticket came my way. Moral of the story: reply to random emails more often.
By alex walinskas on Nov. 29, 2016, 10:47 p.m.